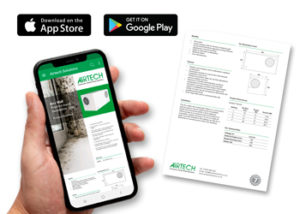 Airtech has launched its 'Airtech Solutions' app for social housing providers, landlords, installers and households with condensation, mould and radon issues. The app provides access to Airtech's brochure, product datasheets, guides and safety datasheets. It can be downloaded to a smart phone or tablet, on either iOS or Android platforms. It also features a search tool which can be used to locate information, sort documents by name, date and size, share documents and list frequently viewed documents, these allow documents to be added to a personal bookmark list.
When a social housing provider or maintenance team visits a property with an issue they can easily book a survey online on the Airtech website using the app. By connecting to the website the app allows access not only to survey bookings but also servicing, installation, data downloads, training tools and information on condensation, mould and radon.
Airtech offers ideal product solutions. These can range from the Air+Loft and Air+ Wall Positive Input Ventilation (PIV) to the environment sensing bathroom and kitchen fans, such as the SA25 SELV, the SA60 Mains and SELV, and the SA64, and data gathering fans, such as the DA25, DA60 and DA64, as well as a range of products designed to reduce radon gas levels.
The data downloads service is unique, with Airtech the only company in the social housing sector that provides such detail. In disrepair or complaint cases, record keeping is a must for defending cases. The inbuilt datalogger in Airtech's fans records details of the home environment including humidity and temperature, allowing a landlord to track these variables on one graph.
Airtech's property surveys identify condensation, damp and mould problems offering recommendations to solve these issues, including removal treatment, redecoration and full ventilation installation backed by a three-year guarantee that mould won't return.
To read more click here.