Airtech Solutions App – Product information at your fingertips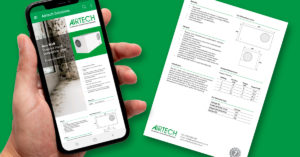 The new Airtech Solutions app helps social housing providers, landlords, installers, and households find the answers to their ventilation, condensation, mould and radon questions. So they can improve even whole house ventilation system. The app provides users with access to the Airtech brochure, product datasheets, guides and safety datasheets on the go, with all content downloadable to a phone or tablet so it's accessible even when there is no internet access.
The app allows you to view the documents in a list or a grid format, sort the documents by name, date and size, share the documents and create your own list of frequently viewed documents and add them on bookmarks list. A free condensation and mould survey for a property is also bookable through this app. The property surveys identify condensation, damp and mould problems offering recommendations to solve these issues, including removal treatment, redecoration and full ventilation installation backed by a three-year guarantee that mould won't return.
Airtech Solutions App features: 
Access to a wide range of documents.
A search tool which helps to find required information easily.
Option to book a free condensation and mould survey.
Option to bookmark commonly viewed documents.
Possibility to share documents.
Airtech offers ideal product solutions for the condensation, mould and radon problems. These can range from the Air+Loft and Air+ Wall Positive Input Ventilation (PIV) to the environment sensing bathroom and kitchen fans, such as the SA25 SELV, the SA60 Mains and SELV, and the SA64, and data gathering fans, such as the DA25, DA60 and DA64, as well as a range of products designed to reduce radon gas levels.