Airtech is offering a free training seminar for social housing landlords on condensation and mould. The course looks at the difference between damp and mould, health implications, causes and consequences, solutions and data logging. This training will help ensure that landlords know how to break the cycle of condensation and mould, thus protecting both residents and their housing stock.
With social housing landlords often finding condensation and mould a recurring problem, causing recurring costs, education is vital. Airtech's training course helps landlords understand the causes of condensation and mould and offer solutions and simple steps that guarantee that once mould has been removed it won't return. They also provide free surveys to identify individual issues in tenants' homes.
"At Airtech we believe that education is key in combatting mould and condensation. By providing this free seminar for landlords, we explain the causes and solutions with the end result being improved living conditions and resident health" said Andrew Cowlin at Airtech. "With this information, landlords can end complaint cases and win legal cases before they reach court as well as fulfilling their duty of care to residents by providing good IAQ in their properties."
A growing body of evidence has identified the dangerous impact poor indoor air quality (IAQ) is having on the nation's health, with mould and condensation being major factors in poor IAQ. Causes include drying wet clothes on radiators; piling clothes or other items against an ext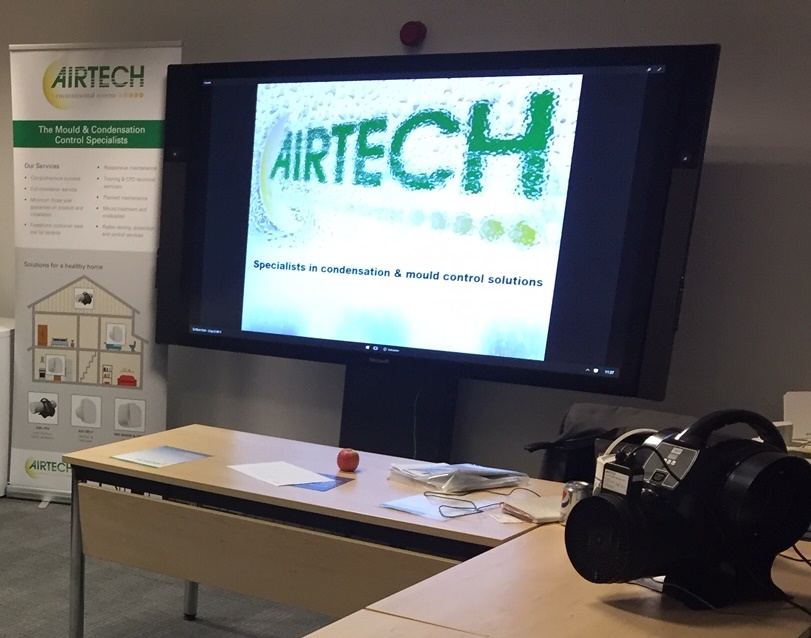 ernal wall; and a lack of effective ventilation which all lead to high humidity levels.  
Resident education is also a vital part of Airtech's service with free mould information leaflets that social housing providers can give to residents so that they understand the causes. Airtech also provides a Freephone customer care helpline for residents to seek advice on its ventilation products.
The course talks about solutions such as the AIR+ PIV which gently operates in the background introducing drier air into the home, forcing out stale humid air and replacing it with fresh filtered, warmed air from outside. Positive Input Ventilation is proven to reduce both condensation and mould, as well as dangerous levels of radon in specific areas of the UK. Other solutions include environment sensing and data gathering bathroom and kitchen fans, such as the A25 SELV and the A60 Mains and SELV.
Datalogging is one of the latest ways to combat mould and condensation. It logs how lifestyle habits affect humidity and temperature and demonstrates how reducing relative humidity through adequate heating and ventilation can maintain a healthy home. Hand-in-hand with the data logging, Airtech's specialist control platform monitors the data as it is collected and modulates the fan accordingly to react automatically and proportionally to rising humidity levels, offering quick and effective humidity control. This ensures the resident keeps the optimum environment in the home to avoid condensation forming, thus helping maintain good IAQ.  
Airtech are not just another ventilation company. They are specialists in condensation and mould control solutions. A company with over 25 years' experience Airtech uses diagnostics, analysis and treatment techniques to control condensation and mould through a combination of humidity control and ventilation. For, more information, or to book a place on the seminar call 01823 690 292.