Airtech now offers a clean, fresh, simple and attractive design, the site is packed with useful free resources to provide registered providers, contractors, landlords, direct labour organisations and residents, solutions to overcome condensation, mould and radon. Boasting new added functionality which makes navigating simple, the website offers visitors a guided route to find their individual solution for an enriched user experience.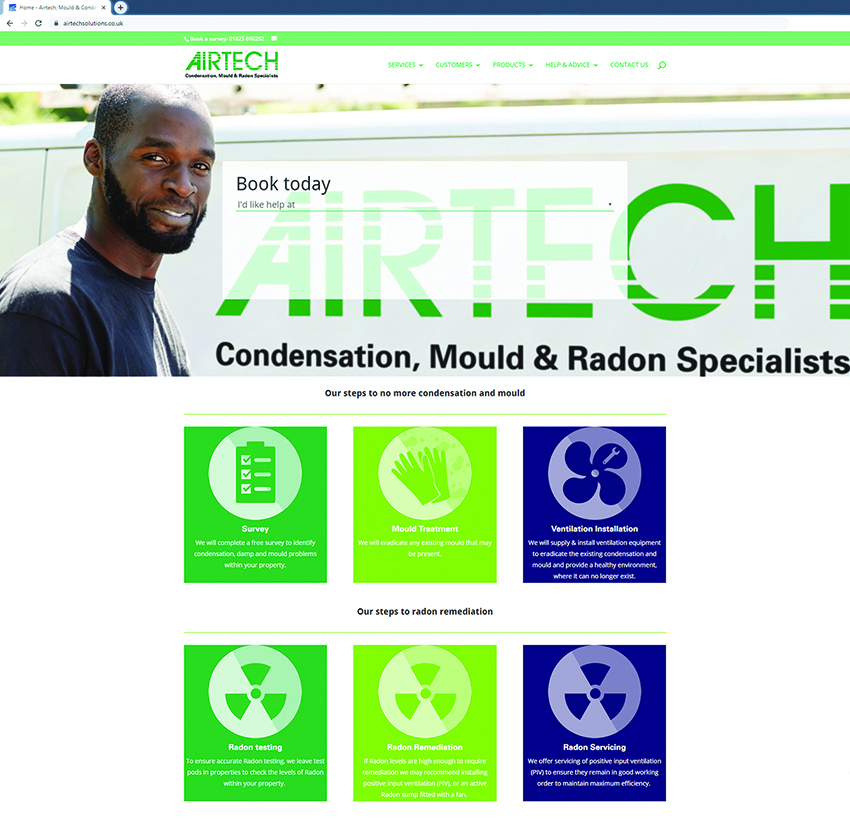 Airtech's website has moved away from traditional ventilation websites that lists social housing ventilation products and services. Instead this new journey-led, solutions-based website is a sophisticated engaging resource, providing users with expert information on how to tackle condensation, mould and radon, as well as how to help prevent condensation and mould in properties. Visitors to the homepage will be able to immediately go to where they need to be on the website thanks to a selector tool with a simple drop-down menu. By simply selecting property type, what issue they'd like help with and what solution they are looking for, visitors will swiftly find the answer to their problem. This includes directing visitors to:
• Information within the help and advice section;
• Product details;
• A handy contact form for booking a survey;
• Finding an expert;
• Training.
"Airtech's new website offers a vault of resources providing local authorities and housing associations with a comprehensive source of information to refer to whenever there is a condensation, mould or radon problem in one of their properties. This includes information on legal disrepair, planned maintenance and responsive repairs. We've included everything that visitors will need to find a solution when they have a condensation, mould or radon issue, as well as a raft of information on how to prevent condensation and mould in the first place" said Jeremy Cleeter at Airtech. "However, it is not only local authorities and housing associations that can benefit from the site, residents can access the site too, allowing them to identify the causes of condensation, mould or radon problems and learn more about them."
For visitors requiring expert help the website features a comprehensive services section. This includes information on data downloads that can help with disrepair cases, condensation and mould surveys and treatment, radon treatment, ventilation installation and servicing, and training tools.
Airtech's data downloads service is a unique offering, with Airtech the only company in the social housing market that provides such a depth of detail when it comes to ventilation data. In disrepair or complaint cases, detailed record keeping is a must since records are essential to defending these cases. However, the inbuilt datalogger in Airtech's fans records details of the home environment, such as humidity and temperature levels, to allow the landlord or contractor to track and analyse the correlation of these variables together on one graph. Data is stored over a 5-week or a 15-month period depending on the model of the ventilation fan. Airtech's sophisticated data logging allows landlords to monitor all 'on/off' occurrences and map them in relation to the temperature and humidity readings, giving a clear indication of whether the fan has been running as intended. This information is invaluable when it comes to supporting landlords in disrepair or complaint cases with robust data.
Meanwhile, Airtech's mould surveys and treatment offer three simple steps that can solve the problem of condensation and mould: comprehensive property surveys to identify condensation, damp and mould problems and recommendations to solve the issues; mould removal treatment and redecoration; and full installation of adequate ventilation equipment to ensure condensation and mould won't return. The treatment and mould removal is backed by a unique three-year guarantee that the mould will not return.
For visitors requiring ventilation servicing this can be easily booked via the website too. Ventilation servicing helps to extend product life, lowers running costs, providing quieter running and cleaner air in the home. On Airtech's new website visitors can select whether to book MEV servicing, PIV servicing or three levels of MVHR servicing (from an entry level to a premium full service), this helps to ensure long-term performance of the ventilation system.

Plus, the website also features Airtech's latest products that are designed to tackle condensation and mould and radon issues. Boasting patented market-leading ventilation technology that improves tenant comfort and efficiency Airtech can offer landlords the correct solution for individual properties. This can range from the Air+ Positive Input Ventilation (PIV) to the environment sensing bathroom and kitchen fans, such as the SA25 SELV, the SA60 Mains and SELV, and the SA64, and data gathering fans, such as the DA25, DA60 and DA64, as well as a range of products designed to reduce radon gas levels.
For, more information call 01823 690 292 email info@airtechsolutions.co.uk